Are you about to build your website, and you don't know which tool to choose from Wix, Shopify, Squarespace, and WordPress?
Being WordPress experts, we tell you more about this platform and how it stands out from its competitors.
6 Reasons to Choose WordPress
No, WordPress isn't just a tool for blogging! From Sony Music to Best Buy via UPS, The New York Times or Spotify, many companies from all makes and industries use it. WordPress is the most widely used CMS, or Content Management System , in the world. Indeed 35% of websites in the world use it, according to a study by Netcraft!
Your website is a target…
We're all in hackers' crosshairs. Get your free analysis of your current situation in less than 5 minutes.
1.Open Source
WordPress is open source software. Software is said to be open source when its code is publicly available and can be modified or improved by all users. In general, there are no fees to pay to access or use it. This is the case of WordPress which uses the GPL license giving you the right to do what you want with its code. On top of that, WordPress has a large community. This makes it quick to find help, documentation and a host of resources online. Our team is also one of the contributors to this project.
2. Easily customizable
WordPress includes more than 55,000 plugins and thousands of themes to customize it to your taste according to your technical needs and according to the nature of your activities. It adapts to any type of website: online store, showcase site, etc. Creating a page or managing content is a breeze with WordPress. You will also be able to connect to many marketing tools and accounting tools, have a multilingual site, etc.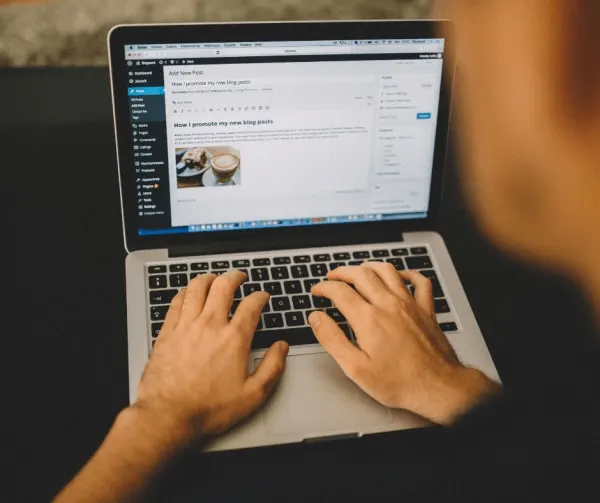 Beware, however, of the myth about it being free :You will have to pay if you want to use certain themes or plugins or a Premium nature. To create your website, we also advise you to work with professionals. It is your first marketing tool! Take care of your brand image and put all the chances on your side to gain the trust of your customers. Be aware that a website can cost… from $5,000 to $1M! Evaluate your project by contacting our team.
3. Web Hosting Choices
If you download the tool for free on WordPress.org, you will need to provide your own web hosting. This allows you to choose perfectly according to your needs the solution that suits you according to your budget, your activities and business goals. The different types of web hosting available for your WordPress site are described in our article of the same name.
4. Performance and reliability
WordPress is updated very regularly, so bugs or security flaws are fixed as soon as they are discovered. New features are also emerging allowing the platform to remain in constant evolution. The majority of themes are designed to be responsive in order to adapt to all types of devices.
WordPress gives access to excellent plugins to achieve a fast website or perfect your SEO on search engines.
5. Security
No software is 100% secure. We therefore advise you to have an increased maintenance strategy to limit your chances of a hacker breaking into your website. Safety is your responsibility! You should know that, despite the myths, WordPress is totally secure.
6. Marketing
WordPress is an important ally for your marketing strategies. In particular, it allows:
add CTAs to your blog posts
identify keywords in your pages for better SEO
create landing pages to sell/present your products and services
easily connect your social networks
schedule your posts
Added to this is a multiple user access system that facilitates teamwork for writing a blog post for example!
The main competitors of WordPress
WordPress is used by over 450 million websites worldwide, or about 62% of the CMS market!

How does WordPress stand out against Wix?
Wix has been used by 3.8 million websites since its inception in 2006. Wix is a website builder unlike WordPress which is a CMS, as explained earlier. The major difference is that a website builder is essentially made to build the front-end of a website, i.e. the visual part. Customization is therefore more limited.
Wix provides 300 free templates, fewer choices than with WordPress and Wix does not allow responsive mode. This is a major disadvantage when we know that in 2019, 56% of users used their phone to browse websites.
How does WordPress differ from Shopify?
Shopify has been used by 1 million websites (October 2019) since its inception in 2004. This CMS provides only 100 free and paid templates. A narrower choice for customization than WordPress, which with the WooCommerce e-commerce plugin, offers more than 1000 themes. The blog section is present but offers much less possibility than WordPress. Shopify charges a transaction fee of up to 2% of sales, which is to be taken into account in addition to the monthly usage fee.
What to say between Squarespace and WordPress?
Squarespace has been used by 3 million websites since its inception in 2004. More limited in terms of creation than with WordPress which is much more flexible than the latter. The platform is self-managed, but does not allow you to customize your site with as much ease as WordPress.
What about Joomla and Drupal?
Joomla and Drupal are both CMS like open source WordPress. They offer services quite similar to WordPress however the latter surpasses them in terms of customization options, themes and plugins accessible or by its ease of use.
Conclusion
Either way, there is no perfect solution. A website is an essential investment in your business and the choice of the tool to realize it must be made according to your reality, your present and future needs as well as your budget. WordPress stands out from its competitors in many aspects: personalization, reliability, flexibility, marketing, etc. On the other hand, your needs will determine if it is the most suitable platform for you. But if WordPress propels 35% of websites in the world, it is certainly not for nothing…