Do I need a WordPress Maintenance Plan?
This is honestly one of the questions which we're asked most often: « Do I really need a maintenance plan for my WordPress website?»
The question is totally valid. While we base our service on the sale of maintenance plans, this article explains more specifically to whom this type of service is intended.
Historical context
Before getting into details, let's first understand how the idea of SatelliteWP came to us…
Your website is a target…
We're all in hackers' crosshairs. Get your free analysis of your current situation in less than 5 minutes.
Jean-François and I had noticed that many websites were vulnerable since no maintenance was carried out. Then, as we dug deeper, we realized that it wasn't just that the business owners had been negligent, but that they often just didn't even know that regular maintenance had to be done.
WordPress maintenance services were available in the United States, but were not able to meet the specific needs of Canadian websites, which involve aspects such as:
Customer service in French; and
WordPress experts who understand the complexity of multilingual sites
That was it! An opportunity was there!
But who does a WordPress maintenance service cater to?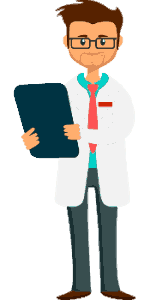 First of all, let us be direct, our service isn't for everyone. For instance, if you consider your website more as a "necessary expense" based on the fact that you have a web site because everyone else does… then you may not be our target audience.
Our maintenance service is geared towards people who consider their website a business investment. If you see your website as part of your marketing team working for you 24/7 and requiring constant attention, we can help you!
All of our services are conceived with the intent of reducing your risk and maximise the impact of your web presence. Your website is definitely the one working the longest hours, with no complaints, and is highly profitable as a result. On the other hand, you will have to invest in its content… and also to maintain the infrastructure that keeps the site running.
So, if you want to make your WordPress website an ally in your daily success, then you need a maintenance plan.
What use is a Maintenance Plan?
A maintenance plan gives you peace of mind knowing that professionals are making sure your infrastructure is working properly. This allows you to focus on the work that really matters to your organization and your customers.
And if any problems are encountered or if you have a question about your website, a team familiar with your site can react quickly to help you.
What does a Maintenance Plan do exactly?
Great question! Understanding what you are buying is crucial.
First of all, let's agree that no two websites have the same needs. For that reason, we offer different WordPress Maintenance Plans to suit different business needs. Whatever plan you choose, they all possess certains common aspects:
Backups
All our care plan include daily backups performed on a recurring basis
Those backups are sent to multiple servers to ensure that if one fails, your files will remain completely safe and secure. Backups are also verified to ensure they can be restored if necessary.
Updates
Software, by its very nature, implies "updates".
Every day, updates are released for the different components that make up your website. Should you apply them all right away? Of course not! Our experts are aware of when updates should be applied in order to reduce the risk of conflicts on your site.
Does a "changelog" mean anything to you? Changelogs are technical summaries of changes made to WordPress code, themes or plugins. We carefully read all changelogs before making any updates. Prior to each update, a backup copy is created just in case an update would cause a problem on the website. And should there be any issue, our experts can restore a backup quickly or fix the situation.
Monitoring
We confirm the availability of your website for your visitors on a continuous basis. Depending on your plan, checks can be done up to every minute to ensure that your website is always available. By using our monitoring checks, you'll be able to confirm the stability of your web hosting in our monthly report.
Security Scan
To be up to date is one thing, but to ensure that your website has not been compromised is just as important. For this reason, all our plans include periodic security scans performed to ensure that everything is safe and sound. Scans are performed at at the same time as backups.
Monthly Report
At the end of each month, you will receive a monthly report that will detail all that was done during the past month. It also provides you with additional information on your installation, statistics on the availability of your site and many other details!
And more…
The previously stated points are common to all our plans. Then, depending on the plan you choose, you could also get:
Performance scans to ensure that your site is fast in order to maximize your SEO;
Malware Removal on your website in case of hacking. If anything should happen, we will take care of removing all malware your site;
A "staging" environment so you can test updates off your "live" site;
Consulting hours to maximize your ROI;
And more!
Conclusion
The decision is ultimately yours as to whether your site deserves a maintenance plan. When in doubt, ask yourself the following questions:
Do you perform regular backups? If so, arethey automated, performed regularly and transferred to a remote server?
Are you sure your backup works (did you test it)?
Do you read the "changelogs" before making your updates?
In the event of a problem following an update, can you restore your website from a backup?
Does your company have a system that checks the availability of your website at least every 15 minutes?
Di you have the technical skills to tune the performance of your website and solve any technical issue which may come up?
If you answered « no » to a single one of these questions, then you might need a WordPress maintenance plan!